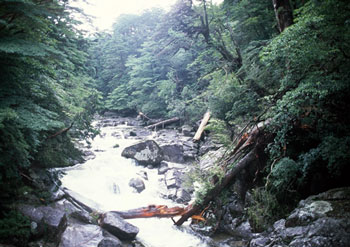 In Yakushima island,only cedar tree which is older than a thousand years calls Yakusugi which means the cedar of Yakusima. Some of the older Yakusugi has it's own name. Most famus Yakusugi is Jomon sugi on the Ohkabu trail. However it needed 10 hours trecking for there.Alternatively some Yakusugis in Yakusugi land are easy to access. We are able to see the such a old trees along the trails in Yakusugiland.
Trails prepared with differed time to walking it. If you want to see all trees listed below,you need to choice the longest course of them which needed two hours.
Kigensugi is not in the park.However you'll be able to reach this massive tree easyly by going upstream through the Anbo forestry road.